Fischertechnik Middle School STEM Lab review
What is Fischertechnik?
Fischertechnik is a brand which develops Science, Technology, Engineering and Math related products in Germany. All parts are designed and manufactured in Germany which uses a special blend of soft and hard plastics in their products.
The late founder Arthur Fischer was famous for inventing the S-Plug otherwise also known as the wall plugs we use today in our homes. Back in the 1960s, the common Christmas gifts in Germany was only ham. Mr Fischer changed all that as he and his company started providing Fischertechnik toys as novelty gifts in 1965. Though it was founded in the 1960s, they have upgraded their components and teaching materials to cater to 21st-century STEM education.
STEM kits?
Fischertechnik caters to learning of all ages from kindergarten to adults. The STEM kits in Fischertechnik mainly cater to the primary school student to adult category. Even within this category, there are multiple models and ranges.
In this article, we will review the Middle School STEM Lab.
What does it include?
1,315 reusable components for making. A CD Manual which includes instructions for both teachers and students. The Manual includes instructions on how to build up to 96 different programmable and non-programmable models.
Front cover and back covers of the packaging label.
Click to enlarge to view all components.
High-Quality Hardware
A microcontroller that allows programming to be done, rechargeable battery, 1315 re-usable components which include switches, sensors, gears, and other parts. Manufacturer Warranty included. Do take note that black block parts which are slide in and out should not be twisted as it would damage the parts hence rendering it unusable.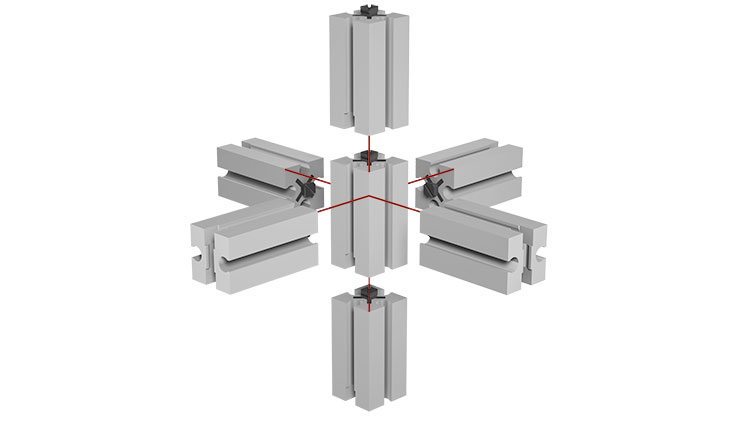 Image Source: https://www.fischertechnik.de/en/playing/content/der-grundbaustein
Fischertechnik block with 6 degrees of freedom. One of the many types of components within the kit.
Software
Fischertechnik's own Robopro software which offers a drag and drop General User Interface (GUI) for Windows only. It encourages logical step by step thinking which is required in many professions and compulsory for programmers.
Fischertechnik Robopro software image source: 
https://www.google.com/url?sa=i&rct=j&q=&esrc=s&source=images&cd=&cad=rja&uact=8&ved=2ahUKEwiNl-ezx4LeAhWMjLwKHe0-AxwQjRx6BAgBEAU&url=https%3A%2F%2Fwww.fischertechnik.de%2Fen%2Fproducts%2Fplaying%2Frobotics%2F93296-robo-pro-software&psig=AOvVaw3TI4Os_iDmYq2Y8fsRe8AG&ust=1539490563318682
Here's a quick demo on how to use Fischertechnik Middle School STEM Lab's software:
Who is it for?
– This kit is most suitable for Middle school students between 11 to 13 years old for fun, learning or to join robotic competitions.
– Teachers who would like to explore and understand STEM better could also use these kits.
– Hobbyists who would like to do build their own models, dismantle, then re-use parts easily to build newer models.
– Corporate trainers who would like to build quick prototypes for students to learn quickly.
Why you need one today?
You can build and re-use as many times as you like.
Fischertechnik is a great learning tool for beginners as well as advanced users.
Its blocks are slide in and out type that has multiple degrees of freedom. From walking robots, cars to vehicles with sensors, this kit offers multiple hours of fun.
Image Source: https://www.facebook.com/BrainBytes/photos/a.1186584794717942/1186584978051257/?type=3&theater
Group of 3 Middle School students built a walking robot using Fischertechnik parts and rechargeable battery.
It took us about 2-3 hours just to build a vehicle with sensors while referring to the manual and another 1-2 hours to get the software right while re-adjusting and re-aligning.
We made some references to Studica's tutorial video when building a Fischertechnik mobile robot:
Part 1:
Part 2:
While the microcontroller in the video might differ from the one in the set, both are programmable.
Some parts are very small so it is good to train hand-eye coordination and finger motor skills.
Verdict
We have used the kit for more than 2 to 3 years now and if handled with care, the parts can be reused multiple times. It may seem pricey if you only plan to use it once, but over the span of a few years, we consider this kit as value for money. Great for teaching and learning 21st-century education.
Get a model today.
Product Link (Malaysia): 
https://my.carousell.com/p/fischertechnik-middle-school-stem-lab-103829754/?ref=search&ref_query=fischertechnik&ref_referrer=%2Fsearch%2Fproducts%2F%3Fquery%3Dfischertechnik&ref_reqId=FYF9i6G472lefSiOpVyLuZf7MK06rpFO